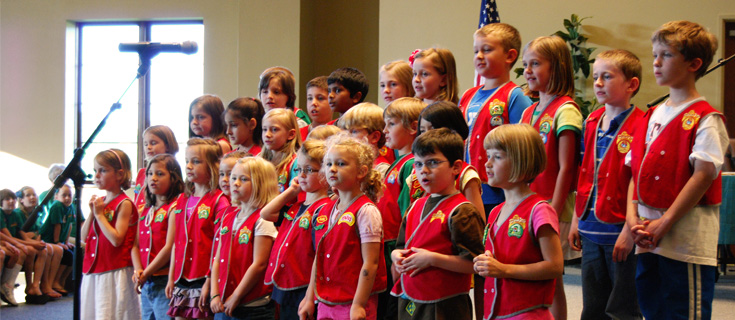 AWANA
AWANA is a global ministry that actively disciples and teaches children how to know, love, and serve Jesus Christ. During an AWANA evening, each of the three clubs inspires an excitement for the gospel of Christ through bible lessons, scripture memorization, games, and mentorship. The gospel of Jesus Christ, His love and sacrifice for us, is conveyed throughout each segment of the AWANA Clubs.
From September to May, our AWANA clubs meet every Wednesday evening from 6:30pm to 8:00pm. After check-in/coming-in time, the children rotate every 20 minutes to: handbook time, large group time and game time.
AWANA was formed in 1950 in Chicago and its two-fold mission remains to this day: to reach boys and girls with the gospel of Christ and train them to serve Him. AWANA stands for "Approved Workmen Are Not Ashamed" (II Timothy 2:15).
At AWANA, trained leaders guide children through a Bible-based curriculum. Clubbers learn that God is real, that He loves them, and He can be their personal Savior. The truths of God's Word are taught with an emphasis of application to their daily lives. We hope you and your family will join us for another fantastic year of AWANA!
Cubbies club is designed for 3 & 4 year olds. This 2-year curriculum features Bible stories with engaging characters, age based Scripture memory and parent activities to make sure preschoolers know the love of their Savior and trust in His Word.
Sparks is for kindergarten through 2nd grade. It ignites the curiosity of kids to learn about the people and events of the Bible, building a foundation of wisdom for knowing Christ. This 3-year curriculum will cultivate a lifelong hunger for God's Word. Sparks club is the perfect catalyst for discipleship
T&T, Truth & Training, is for 3rd through 6th graders. It guides them on a journey to know God and His Word, love and need their Savior, and live out their faith in the ever changing world. This 4-year curriculum launches outreach efforts and deepens discipleship as it equips leaders and challenges kids to understand, retain and apply His Truth!