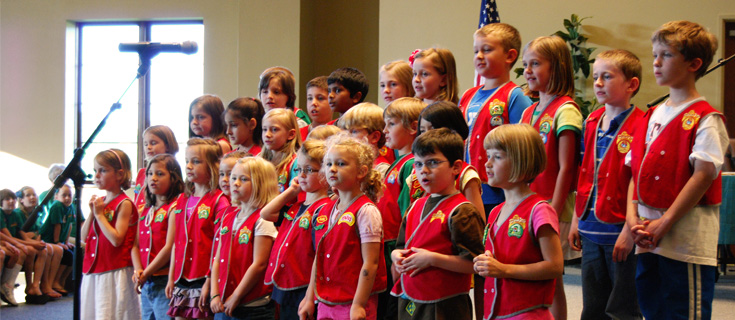 AWANA
"Love in Action" describes the atmosphere of Awana. It is a global ministry for ages three through high school that actively involves parents. It is a discipleship program that teaches children how to know, love, and serve Jesus.
During the Awana evening there is mentoring, Biblical teaching, and a game time that encourages good sportsmanship. Christ's love and sacrifice for us is conveyed during large group time.
From September to May our Awana club meets every Wednesday evening from 6:45pm to 8:15pm. It begins with the opening ceremony in the gymnasium. The children rotate every 20 minutes to: handbook time, large group time and game time.
Awana was formed in 1950 in Chicago and its two fold mission remains today: to reach boys and girls with the gospel of Christ and train them to serve Him. Awana stands for "Approved Workmen Are Not Ashamed" (II Timothy 2:15).
Awana club meetings are brimming with life enriching experiences for young people. Loving leaders guide children through Bible based curriculum. Clubbers learn that God is real, that He loves them, and He can be their personal Savior. The truths of God's Word is taught and application to their daily lives is stressed.
If you ask the kids, they attend Awana Club at Emmanuel because it's fun!
Cubbies is for 3 & 4 year olds and displays the greatness of God's character. This 32 week, 2 year curriculum features Bible stories with engaging characters, age based Scripture memory and parent activities to make sure preschoolers know the love of their Savior and trust in His Word.
Sparks is for kindergarten through 2nd grade. It ignites the curiosity of kids to learn about the people and events of the Bible, building a foundation of wisdom for knowing Christ. This 3 year curriculum will cultivate a lifelong hunger for God's Word in your kids and is the perfect catalyst for discipleship and parent engagement.
T&T, Truth & Training is for 3rd through 6th graders and ushers them on a journey to know God and His Word, love and need their Savior and live out their faith in the ever changing world. This curriculum can launches outreach efforts and deepen discipleship as it equips leaders and challenges kids to understand, retain and apply His Truth!
Trek invites students to wrestle with three questions: "who am I?, why am I here?, and who's with me? " This curriculum is for 7th and 8th graders and allows them to search God's Word to find the answers to these questions, challenges them to truly own their faith, and ultimately find their place in God's redemptive story.
Journey is for high schoolers and illustrates what is expected of a follower of Jesus and mobilizes students to impact the world for Christ. This 4 year curriculum is Biblically rich, and challenges kids to apply it to their life and equips them to be lifelong disciples.